We're talking company or business brand, not the kind you'll see 'branded' on livestock and the like.
Many people have discussed this topic and most far more brilliant than me. But let me discuss some of the broader points on what makes a brand.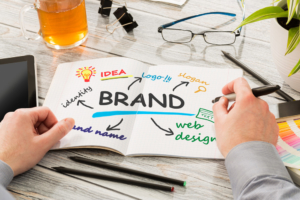 Corporate or a business brand is not your logo or mark, it's not your name but it's tied to multiple touch-points that also include customer service, packaging, advertising, stationary, your best and worst employee, your best and worst product, how the phone is answered, the music you subject your callers to when being placed on hold – basically the brand is the sum of all your business parts and how they are executed.
Consider this – as we are defined by the experiences and actions of our lifetime, so are brands.
Every brand has a core that gives it strength. You have to understand it before you can grow it. You've heard the term Core Brand Values – how about calling these values your brand Mojo? Austin Powers would approve, I'm sure! I don't think I've violated any copyright laws – but we'll talk about that in my next installment.
Even Plato had a clue as to what a brand should be. "…that behind, and above, and beneath – everything we experience in our daily lives in the idea of that thing – which gives that thing lasting meaning.1
The most successful brands consistently evoke positive feelings over time. And with each new product, service or campaign the brand is refreshed and recharged.
Think about the following companies and then think of what their brand is.

No two brands are alike. What differentiates company A from B? How do you set yourself apart? That my friends is the everlasting question. So my answer – hire a good agency – we're one of those!
Once again – your brand will be the sum of your companies parts. Product, service, return policy, employees, facility and of course stationary, logo and how you market yourself to the world.